Rubbermaid 4-Stream Glutton 92 Gallon Recycle Station, Blue (RCP 1792372)
zoom
Rubbermaid Glutton 4-Stream Recycling Station, 92 Gallons, Blue, Each
Product SKU: RCP 1792372
92 Gallon capacity
Includes: 2 - 56 gallon Glutton containers & 4 - 23 gallon Slim Jim containers
Also includes 1 hinged lid frame, 8 restrictive opening tops & 1 label pack
High-capacity, centralized waste sorting solution
Dimensions: 53"L x 24"W x 35.5"H
Rubbermaid 1792372
Videos
Detail Product Breakdown
360° Video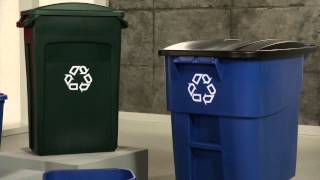 Rubbermaid Commercial Recycling Containers
Detalle del Producto en Español
Product Description
Rubbermaid 1792372 4-Stream Glutton Recycling Station
Rubbermaid designed this Glutton high capacity recycling station to help support your facility's recycling program, reduce labor costs, and improve worker well-being. Exceeding EPA guidelines, this recycling station contains Post Consumer Recycled Resin (PCR). The Glutton is a high-capacity, all-in-one centralized solution for efficient waste sortation and recycling. Restrictive-opening tops, symbol label pack, and word label pack in three languages provide visual cues and encourage compliance. Hinged lid allows easy access during emptying. 53" Long x 24" Wide x 35-1/2" High. Station includes: 2 Glutton 56 gallon containers, 4 Slim Jim 23 gallon containers, 1 hinged lid frame, 8 restrictive-opening tops (4 circles, 2 paper slots, 1 square, 1 triangle), 1 label pack (symbol and word labels in English, French and Spanish)

Rubbermaid 1792372 Glutton 4-Stream 92 Gallon Recycling Station, Blue, Sold as Each

CleanitSupply.com - the wholesale janitorial supply company buyers trust.
Product Specifications
Global Product Type: Waste Receptacles-Rectangle Recycling Station, Slot
Waste Receptacle Type: Recycling
Material(s): Plastic
Capacity (Volume): 92 gal
Color(s): Blue
Shape: Rectangular
Width: 53"
Depth: 24"
Height: 35 1/2"
Opening Type: Restrictive
Lid Type: Hinged
Post-Consumer Recycled Content Percent: 30%