Knuckle Buster Grey/Navy Microfiber Velcro Dust Mop, 18", 12 Mops (ACA-MFVM18)
zoom
Knuckle Buster 18" Microfiber Velcro Dust Mop, Grey/Navy, 12 Dust Mops per Pack
Product SKU: ACA-MFVM18
Velcro-backed dust mop
Provides a simple, lightweight cleaning experience
Durable and machine washable for re-use
Can be used on any hard surface leaving no streaks or residue
Collects and traps dirt and dust
Ideal for use on wood, laminate, marble, vinyl, linoleum, ceramic tile, & stone
For use with Knuckle Buster 18" Pad Holder ACA-MFMB18 (sold separately)
Grey/navy microfiber
18" Mop pad
12 Mops per pack
Knuckle Buster MFVM18 Microfiber Velcro Dust Mop
Videos
Detail Product Breakdown
Dust Mop Buyers Guide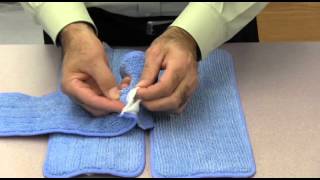 Knuckle Buster Microfiber Dust Mops
Product Description
Knuckle Buster Microfiber Dust Mop
The Knuckle Buster Microfiber Velcro Dust Mop provides a simple, lightweight, superior cleaning experience and is designed for use with the Knuckle Buster 18" Pad Holder (part# ACA-MFMB18). Extremely durable, it can be used on any hard surface and leaves no streaks or residue. This microfiber dust mop collects and traps dirt and dust instead of just pushing it around. Machine washable and reusable, so it is an economical option for any location. The Knuckle Buster Microfiber Dust Mop is great for cleaning and dusting all floor surfaces including wood and laminates,marble, vinyl, linoleum, ceramic tile and stone.

ACA Enterprises Knuckle Buster Microfiber Velcro Dust Mop, 18", 12 Mops per Pack, Sold by the Pack

CleanItSupply.com - The wholesale janitorial supply company buyers trust.
Product Specifications
Type: Velcro back
Color: Grey / Navy
Size: 18"
Fringe: Non-fringe
Microfiber GSM (grams per square meter): 280
Microfiber: 80/20, Split
No foam: Foam
Machine Washable: Yes