Knuckle Buster Blue Microfiber Towel, 16" x 16", 12 Towels (ACA-MFMP16BL)
Knuckle Buster Microfiber Towel, 16" x 16", Blue, 12 Towels per Pack
Product SKU: ACA-MFMP16BL
Highly effective at removing dirt, dust and bacteria
Lint free
Scratch and streak free
Color-coding helps reduce cross contamination
Machine washable for multiple uses and increased value
Blue
16" x 16"
12 Towels per pack
Knuckle Buster MFMP16 Blue Microfiber Towel
Videos
Detail Product Breakdown
MICRO FIBER BUYERS GUIDE 16'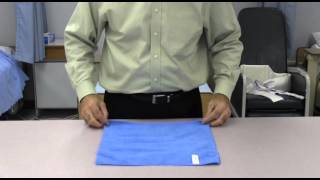 Knuckle Buster Microfiber Multi-Purpose Towels
Product Description
Knuckle Buster Microfiber Towels
The Knuckle Buster Microfiber Towels are excellent cleaning and dusting cloths. You can use these cloths wet or dry. Made of 80% polyester and 20% polyamide, these 80/20 microfiber towels help collect and trap dust & dirt - not just push it around. They penetrate small irregular surfaces to lift our dirt and grime. The Knuckle Buster Microfiber Cloths weigh 280gsm (grams per square meter) which makes the towel construction very durable. Machine washable for re-use up to 500 washes for increased value. Microfiber towels are easy to use, light weight and highly dust absorbent. Microfiber provides a lint free, scratch free and streak free cleaning experience. Excellent for use in your green cleaning maintenance program since they reduce chemical and water usage in addition to improving indoor air quality. These Microfiber Towels measure a full 16" x 16" and are considerably larger then competitor microfiber cloths. Available in six colors: blue, red, green, yellow, orange and white. The color coded system allows differentiation for cost center control & helps reduce cross contamination.

ACA Enterprises Knuckle Buster Microfiber Towels, 16" x 16', Blue, 12 Towels per Pack, Sold by the Pack

CleanItSupply.com - The wholesale janitorial supply company buyers trust.
Product Specifications
Color: Blue
Size: 16" x 16"
Microfiber GSM (grams per square meter): 300
Microfiber: 80/20, Split
Machine Washable: Yes