Knuckle Buster Aluminum Mop Base for Hook & Loop Wet/Dry Mop, 24" (ACA-MFMB24)
zoom
Knuckle Buster 24" Microfiber Hook & Loop Mop Base, Aluminum, Each
Product SKU: ACA-MFMB24
Lightweight aluminum mop base
Fits wet flat mops or dry dust mops
Thin, smooth design allows for easy cleaning in hard to reach places
Hook & loop strips and handle connection are replaceable
Two 7/8" hook & loop strips fasten securely to wet or dry mops for ease of use
Smoothed, rounded plastic edges prevent nicks and scrapes while mopping
One-step quick connect
24" Base
Knuckle Buster MFMB24 Aluminum Mop Base
Videos
Flat Mop Bases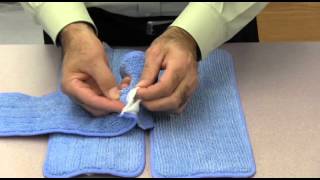 Knuckle Buster Microfiber Dust Mops
Product Description
Knuckle Buster Microfiber Mop Pad Base
Knuckle Buster Pad Holder Base is a lightweight aluminum frame with hook & loop strips and fits flat dry dust mops. The unique thin and smooth design allows for easy cleaning and maintenance that allows cleaning in hard to reach places including under low objects. Hook & loop strips and handle connection are replaceable providing economic benefits over competitor "whole unit only" replacement. Pad Holder Base features two 7/8" sturdy hook & loop strips that securely fasten to flat dust mops ensuring stability and ease of use. Smoothed aluminum and plastic rounded edges prevents nicks and scrapes while dust mopping and provides for scratch-free floor cleaning. Easy one-step quick connect mechanism for quick handle assembly and storage.

ACA Enterprises Knuckle Buster Microfiber Mop Pad Holder, 24" Base, Aluminum, Sold as Each

CleanItSupply.com - The wholesale janitorial supply company buyers trust.
Product Specifications
Type: Mop Base, hook & loop strips
Color: Alumium
Size: 5" x 22" for 24" pad
Hook & Loop strips: Replaceable
Mop connection: Swivel
Other Products to Consider