Knuckle Buster Red Microfiber Flat Mop Pad, 18", 12 Mop Pads (MFFM18RD)
Knuckle Buster 18" Microfiber Flat Mop Pad, Red, 12 Pads per Pack
Product SKU: MFFM18RD
100% microfiber including the back
Extra layer of microfiber in the center to increase absorbency and durability
No Foam
Use with mop base ACA-MFMB18
Machine washable for multiple uses and increased value
18" Mop pad
12 Pads per pack
Knuckle Buster MFFM18 Red Microfiber Mop Pad
Eco-Friendly
This item does not qualify for free shipping.
Videos
Detail Product Breakdown
Flat Mop Buyers Guide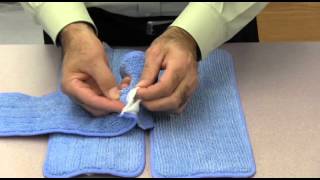 Knuckle Buster Microfiber Dust Mops
Product Description
Knuckle Buster Microfiber Wet Mopping Pad
Knuckle Buster Microfiber Hook & Loop Wet Flat Mop provides a simple superior cleaning experience. This microfiber mop is filled with microfiber. It has no inner foam layer which means it has greater absorbency and durability. It can be used on any hard surface and leaves no streaks or residue. This 18" Microfiber Flat Wet Mop is the ideal solution for hospitals, nursing homes, schools, children daycare centers and anywhere high quality cleaning is a must. The microfiber material removes more dirt, dust and bacteria better than conventional floor cleaning methods. Lint-free, non-abrasive and color-coded for better useability and easy identification. Machine washable. Includes 12 mops.

ACA Enterprises Knuckle Buster Microfiber Wet Mopping Pads, 5-1/2" x 18", Red, 12 per Case

CleanItSupply.com - The wholesale janitorial supply company buyers trust.
Product Specifications
Color: red
Size: 18"
Microfiber GSM (grams per square meter): 280
Microfiber: Split
No foam: Foam
Machine Washable: Yes