Knuckle Buster Grey Mop Bucket for Flat Mops, 6 Gallon (ACA-MFB6GY)
Knuckle Buster 6 Gallon Microfiber Mop Bucket, Grey, Each
Product SKU: ACA-MFB6GY
Accommodates microfiber flat mops up to 18"
Six gallon capacity
Inside tapping pad helps remove excessive liquid
Smooth surface helps prevent bacterial growth and cleans up easily
Sealing lid
Removable wheels
Bucket for flat mops
Knuckle Buster ACA-MFB6GY
Videos
Detail Product Breakdown
360° Video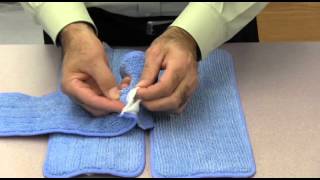 Knuckle Buster Microfiber Dust Mops
Product Description
Knuckle Buster 6 Gallon Microfiber Flat Mop Cleaning Bucket
Knuckle Buster's premium microfiber mop bucket accommodates microfiber flat mops up to 18" and has a six-gallon capacity. The wheels are removable and the tap board effectively removes excess liquid from mop pads before use. The smooth surface helps prevent bacterial growth and cleans up easily. The sealing lid allows for hold over mops and solution.

Knuckle Buster Microfiber Flat Mop Cleaning Bucket, 6 Gallon Capacity, Sold as Each

CleanItSupply.com - The wholesale janitorial supply company buyers trust.
Product Specifications
Color: Grey
Size: Six Gallon
Tapping Pad: Remove excess liquid
Sealing Lid: Preserve chemical and left over mops
Removable wheels: Can be used with a cleaning cart
Handle: Ergonomic grip