Seventh Generation Disinfecting Wipes, 7 x 8, Citrus, 70 Wipes (SEV22813EA)
zoom
Seventh Generation Disinfecting Wipes, 70 Wipes per Canister, Each
Product SKU: SEV22813EA
Cleans and disinfects in one easy step

Kills 99.99% of bacteria and viruses, including common colds and flus

With patented

CleanWell®

disinfecting technology based on essential oil

Approved for use to kill SARS-CoV-2 (COVID-19)*
For use on hard, non-porous surfaces
Specifically effective for: Influenza A virus, H1N1, Rhinovirus type 37 (the Common Cold virus), Methicilin-resistant S. aureus (MRSA), Staphylococcus aureus, Salmonella enterica, and Pseudomonas aeruginosa on hard, non-porous surfaces
No rinsing or wiping required, even on food contact surfaces
Clean and disinfect in one easy step
Botanical active ingredient Thymol (a component of Thyme Oil)
Deodorize and effectively control odors
Lemongrass Citrus scent
7 x 8 Wipes
70 Wipes per Canister
Sold as each

EPA Registered (#84683-4-86066) *On List N For Use Against SARS-CoV-2 (COVID-19) AND approved for Emerging Viral Pathogen Claim when used on hard, non-porous surfaces in accordance with manufacturer's directions and CDC guidelines.

Seventh Generation 22813 Disinfecting Wipes

Non-returnable
Videos
Detail Product Breakdown
360° Video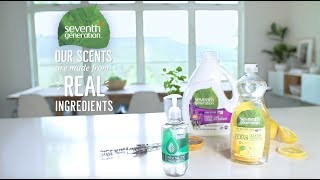 Seventh Generation Scents from Real Ingredients
Product Description
Botanical Disinfectant Wipes
Cleans and disinfects in one easy step. Botanical disinfectant made from essential oils. Kills 99.99% of germs botanically (see product label for details). Effective against influenza A virus. Premoistened wipes are formulated for use on hard, nonporous surfaces. Deodorizes and effectively controls odors. Application: Hard Nonporous Surfaces; Composition: Plant Based; Active(s): Thymol (0.5%); Color: White.

Seventh Generation Disinfecting Wipes, 7 x 8, White, 70 Wipes per Canister, Sold as Each

CleanItSupply.com - The wholesale supply company buyers trust for more than just cleaning.
Product Specifications
Global Product Type: Towels & Wipes-Cleaner/Detergent Wet Wipe
Towel/Wipe Type: Disinfectant Wipe
Application: Hard Non-porous Surfaces
Chemical Compound: Plant Based Essential Oils
Active(s): Thymol (0.5%)
Dirt Types: Germs;Flu;Virus
Scent: Lemongrass Citrus
Wipe Size: 7"L x 8"W
Packaging: Canister
Wipes Per Container: 70
Compliance Standards: EPA Registered #84683-4-86066
Total Recycled Content Percent: 0%
Package Quantity: Sold as Each
Returnable: This product is not returnable