Libman Tornado Mop, 54", Green Bands, 4 Complete Mops (LIB-02030)
zoom
Libman Complete Tornado Mop, 4 Mops per Case
Product SKU: LIB-02030
Tornado mop
Grip n' click ratchet wrings more water & locks in place
Machine washable mop heads
Mop heads are easily removed with quick release clip
3 Green bands prevent tangling
Large mop head covers 50% more surface area
54" Overall height
3/4" Steel handle
Polyester yarn resists odor causing bacteria
4 Complete mops per case
Libman 2030 Tornado Mop
Videos
Detail Product Breakdown
360° Video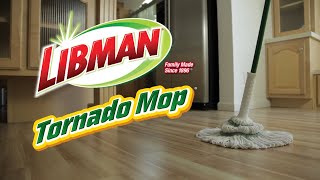 Libman Tornado Mop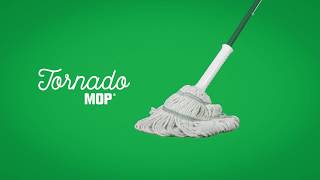 Meet America's #1 Mop
The Libman Story - Family Made in America
Detalle del Producto en Español
Product Description
Libman Tornado Complete Mop
Libman's Tornado Mop features a unique self wringing, 100% synthetic yarn that resists bacterial odor. 3 green bands prevent tangling and provide even coverage and a quick release clip for easy mop head change. This light weight mop is less than 3 pounds when wet has a 3/4" steel handle with hanger hole and ergonomic handgrips. Overall height of 54". Unique ratchet design locks and holds for ease of cleaning with 25% larger mop head. Quick release mop head is machine washable. Great on all surfaces including wood, laminate, marble, vinyl, linoleum, ceramic tile and stone.
Lead Time:
2-3 Business Days



Libman Commercial Tornado Mop, 4 Complete Mops per Case



Warranty
Manufacturers limited one-year warranty.