Libman 2030 Tornado Mop, 54", Green Bands, 4 Complete Mops (LIBMAN 2030)
Libman Complete Tornado Mop, 4 Mops per Case
Product SKU: LIBMAN 2030
Tornado mop
Grip n' click ratchet wrings more water & locks in place
80% synthetic yarn resists bacterial odor
Light weight mop, less than 3.5 pounds when wet
Excellent for hospitality, office products, and housekeeping applications
Machine washable mop heads
Mop heads are easily removed with quick release clip
3 Green bands prevent tangling
Large mop head covers 50% more surface area
54" Overall height
3/4" Steel handle
Polyester yarn resists odor causing bacteria
4 Complete mops per case
Libman 2030 Tornado Mop
This item does not qualify for free shipping.
Videos
Detail Product Breakdown
360° Video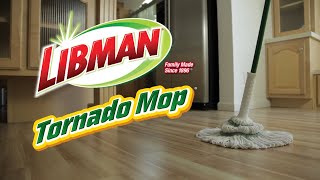 Libman Tornado Mop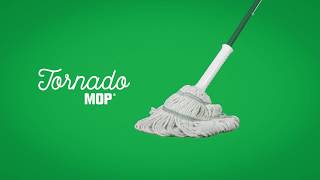 Meet America's #1 Mop
Detalle del Producto en Español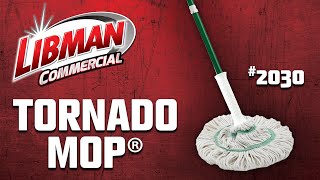 Libman 2030 Tornado Mop Product Spotlight
Product Description
Libman 2030 Tornado Complete Mop
Libman's Tornado Mop features a unique self wringing, 100% synthetic yarn that resists bacterial odor. 3 green bands prevent tangling and provide even coverage and a quick release clip for easy mop head change. This light weight mop is less than 3 pounds when wet has a 3/4" steel handle with hanger hole and ergonomic handgrips. Overall height of 54". Unique ratchet design locks and holds for ease of cleaning with 25% larger mop head. Quick release mop head is machine washable. Great on all surfaces including wood, laminate, marble, vinyl, linoleum, ceramic tile and stone.
Lead Time:
2-3 Business Days



Libman Commercial Tornado Mop, 4 Complete Mops per Case



Warranty
Manufacturers limited one-year warranty.