Libman 917 Lobby Broom & Dust Pan w/Closed Lid Complete, 2 Sets (LIBMAN 917)
Libman Lobby Broom & Dust Pan w/Closed Lid, 2 Sets per Case
Product SKU: LIBMAN 917
10" Wide lobby broom
Split end broom fibers
Cleans up large messes quickly
Ideal for commercial and residential use
12" Wide and 36" tall dust pan
3/4" Steel powder coated handle with grip
Broom stores inside pan & clips to handle
Handle grip on both dust pan and broom equipped with hanger hole
Teeth molded into pan to clean out broom bristles
For all mobile cleaning needs
Best suited when debris needs to be concealed from others (e.g. restaurants, amusement parks, hotels, etc.)
Ships fully assembled
Libman 919 Lobby Broom & Dust Pan w/Open Lid
This item does not qualify for free shipping.
Videos
Detail Product Breakdown
360° Video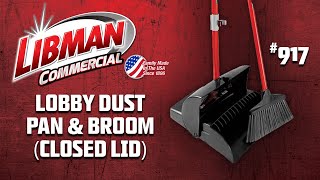 Libman 917 Lobby Dust Pan & Broom (Closed Lid) Product Spotlight
Product Description
Libman 917 Lobby Broom & Dust Pan with Closed Lid
The Libman Commercial Lobby Broom is a convenient way to clean up messes because the broom stores inside the dustpan and they lock together in an upright position for easy storage. The dustpan is 12" wide and 36" tall when open. The broom contains 58 tufts of long, flexible polymer fibers with solid plastic block for extra brushing power. The split-end fibers sweep dust and dirt better for a more complete clean up. This combination unit includes 2 lobby brooms and 2 dustpans per case.
Lead Time:
2-3 Business Days
Libman Commercial Lobby Broom & Dust Pan with Closed Lid, 2 Lobby Brooms (LIB-00915) and 2 Dustpans (LIB-00916) per Case
Warranty
Manufacturers limited one-year warranty.