Libman Large Precision Angle Broom with 10" Dustpan, 4 Sets (LIB-00248)
zoom
Libman Large Precision Angle Broom with Dustpan, 4 Brooms and Dustpans per Case
Product SKU: LIB-00248
Wide angle broom
Includes 10" snap-on dustpan
Environmentally friendly, PET fibers offer durability and longer life
3/4" Steel handle with hanger hole allows for easy storage
Solid, one-piece resin block
6" Long stapled flagged fiber
Broom dimensions: 13"W x 53"H
4 Brooms & dustpans per case
Libman 248 Large Precision Angle Broom with Dustpan
Videos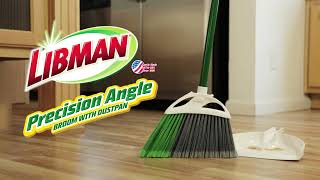 Libman Precision Angle Broom with Dustpan
The Libman Story - Family Made in America
Product Description
Libman Large Precision Angle Broom & Dustpan
These wide angle brooms are 13" wide with a 53" total height. Made with fibers that have a longer life, and have environmentally-friendly PET fiber. PET fibers are used to package bottled drinks, water, juice, salad dressing and cosmetics. These 3/4" steel handle with hanger hole make for easy storage. Solid one piece resin block. 6" long stapled flagged fiber. 10" snap-on dustpan included. 4 large precision brooms and 4 10" dustpans per case.
Available without the snap-on dustpan: (LIB-00205)
Libman Commercial Large Precision Angle Broom & Dustpan, 13"W x 53"H, 10" Dustpan, 4 Brooms & Dustpans per Case

Lead Time:
2-3 Business Days
Warranty
Manufacturers limited one-year warranty.