Libman Gator Mop Refill, Green, 6 Sponge Mop Refills (LIB-03021)
Libman Gator Mop Refill, Sponge Mop Heads, 6 Refills per Case
Product SKU: LIB-03021
Limban Gator Mop Refill
Durable and tear resistant sponge mop head
9" Wide sponge mop head
Easy change refill, complete with nylon wing nuts
Note: For use with LIB-03020
6 Sponge mop head refills per case
Videos
Mop Refill Line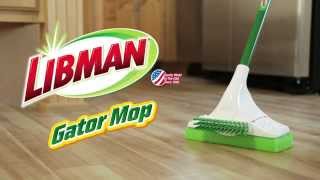 Libman Gator Mop
The Libman Story - Family Made in America
Product Description
Libman Gator Mop Sponge Mop Refills
Providing a durable and tear resistant sponge mop head, the Gator Mop refill sponge mop head is an essential cleaning tool. New design does not include the raised green spots. Coming in at 9" wide, these reliable mops feature an easy change refill, complete with nylon wing nuts. Delivered in cases of 6 mop heads per case, these quality sponges are great for both commercial and residential environments.
Lead Time:
2-3 Business Days
.
Libman Commercial Gator Mop Head Refill, 9" Wide Sponge Mop Heads, 6 Refills per Case
Warranty
Manufacturers limited one-year warranty.