Libman Gator Mop, Scrubber Brush, Cellulose Spnge, 4 Mops (LIB-03020)
zoom
Gator Mop, 4 mops per case
Videos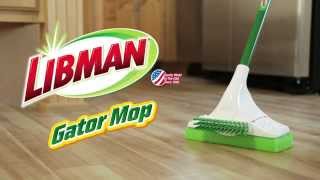 Libman Gator Mop
The Libman Story - Family Made in America
Product Description
Libman Gator Mop
Libman Gator mop has a 9" wide, durable and tear resistant, polyester sponge. Features a 3/4", one-piece, durable steel handle. Total height of 55". Large nylon wing nuts for easier refill changing. Ergonomic wringer grip makes squeezing out the dirty water less messy and easier.
Libman Gator Mop, 4 complete mops per case
Refills available separately at part# LIB-03021(6 refills per case).

CleanItSupply.com - The wholesale cleaning supply company buyers trust.
Lead Time:
2-3 Business Days
Warranty
Manufacturers limited one-year warranty.
Other Products to Consider