Libman Big Tornado Mop, 3-Red Band Mop Head, 4 Complete Mops (LIBMAN 988)
Libman Big Tornado Mop, 4 Complete Mops per Case
Product SKU: LIBMAN 988
Includes mop head and handle
Grip 'n click ratchet wrings more water
Mop head is machine washable
3 Red bands prevent tangling
Resists odor causing bacteria
Larger mop head covers more surface area
Quick release clip for easy mop head removal
Mop head refills sold separately (LIB-00989)
4 Complete mops per case
Libman 988 Big Tornado Mops
This item does not qualify for free shipping.
Videos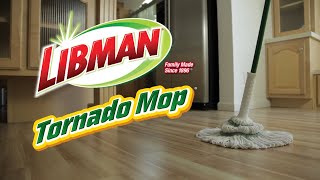 Libman Tornado Mop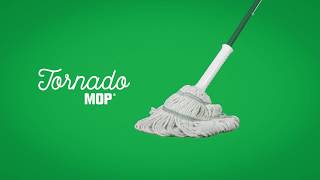 Meet America's #1 Mop
Product Description
Libman Big Tornado Mop
Unique self wringing mop with 100% synthetic yarn resists bacterial odor. 3 red bands prevent tangling. Quick release clip for easy mop head change. Light weight mop, less than 3 pounds when wet. 3/4" steel handle with ergonomic hand grips for a sturdy comfortable hold on tough mopping jobs. Overall height of 55". Unique self wringing ratchet design locks and holds with each twist, making this easy to use. Squeezes out maximum excess water with no hassles of release mechanisms to leave the floor much dryer. Purchase refills: Lib-00989 (6 mop heads per case) #16 mop head. Lead Time:
2-3 Business Days
.
Libman Commercial Big Tornado Mop, 4 Complete Mops per Case
Warranty
Manufacturers limited one-year warranty.
Other Products to Consider