Rubbermaid Executive 3/4 Yard Structural Foam Tilt Truck, Black (RCP1867539)
zoom
3/4 Cubic Yard Structural Foam Tilt Truck, Black, Sold as Each
Discontinued or Out of Stock Product
It looks like the product you are looking for has either been discontinued or is temporarily out of stock.


You can click here to begin a new search from our home page, or call us 1-800-998-3295 and speak to a CleanItSupply.com customer service representative. We will do our very best to help you find what you need or recommend a similar replacement product.


Thank you for shopping CleanItSupply.com!



Videos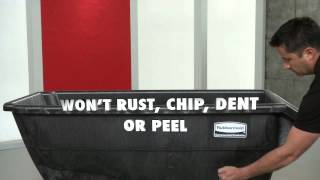 Rubbermaid Commercial Tilt Truck
Product Description
Rubbermaid Tilt Truck
Rubbermaid designed this durable molded truck to handle heavy loads with ease. Its constant force design allows for controlled dumping by one person and best of all, it's easy to clean and virtually maintenance free. Fits through standard commercial doorways and onto elevators easily with non-marking, quiet casters and a unique "steering wheel" handle that provides excellent maneuverability.

Rubbermaid Executive 3/4 Yard Structural Foam Tilt Truck, Black, Each

CleanItSupply.com - the wholesale janitorial supply company buyers trust.
Product Specifications
Global Product Type: Waste Receptacles-Tilt Truck/Hopper
Waste Receptacle Type: Tilt truck
Material(s): Molded Plastic
Application: General Waste
Capacity (Volume): 3/4 cubic yards
Color(s): Black
Width: 30 1/4"
Depth: 64 1/2 in
Height: 38 in
Pre-Consumer Recycled Content Percent: 0%
Post-Consumer Recycled Content Percent: 0%
Total Recycled Content Percent: 0%