Rubbermaid 3424L6 Replacement Swivel Bayonet Caster, 4" Wheel, Black (SGS3424L6)
zoom
Rubbermaid Swivel Bayonet Caster, 4" Wheel, Black, Each
Discontinued or Out of Stock Product
It looks like the product you are looking for has either been discontinued or is temporarily out of stock.


You can click here to begin a new search from our home page, or call us 1-800-998-3295 and speak to a CleanItSupply.com customer service representative. We will do our very best to help you find what you need or recommend a similar replacement product.


Thank you for shopping CleanItSupply.com!



Videos
Detail Product Breakdown
360° Video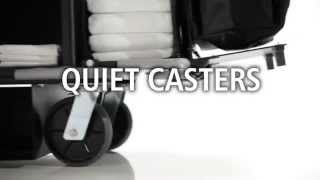 Rubbermaid Quiet Casters: See the difference
Product Description
Rubbermaid 3424L6 Swivel Caster
Replacement casters are designed specifically for Rubbermaid Commercial products. Precision engineering ensures smooth and quiet gliding. Bayonet stem simplifies installation. Caster/Glide/Wheel: 4" TPR Swivel Caster; Color: Black; Stem Type: Bayonet.

Rubbermaid Replacement Swivel Bayonet Caster, 4" Wheel, Black, Sold as Each
Warranty
Manufacturer's limited one-year warranty.
Product Specifications
Global Product Type: Casters & Glides-Standard Wheels
Caster/Glide/Wheel: 4
Color: Black
Stem Type: Bayonet
Wheel Tread: Smooth
Material(s): Thermoplastic Rubber
For Use On: Carpet; Chair Mats; Hard Floors
Caster Quantity: 1
Pre-Consumer Recycled Content Percent: 0%
Post-Consumer Recycled Content Percent: 0%
Total Recycled Content Percent: 0%
Special Features: Swivel