Rubbermaid Glutton 4-Stream 92 Gallon Recycling Station, Blue, Each (RCP1792372)
Rubbermaid Glutton 4-Stream Recycling Station, 92 Gallon, Blue, Each
Product SKU: RCP1792372
Provides the ability to sort and contain 4 separate material streams
Choice of 4 restrictive opening shapes (circle, slotted, square and triangle)
Helps promote recycling program
High-capacity and multi-functional
Hinged lid allows easy access during emptying
Easy to clean plastic
Blue
92 Gallon capacity
53"W x 24"D x 35.5"H
Includes Glutton receptacles, Slim Jim receptacles, restrictive tops, lids frame and label pack
Sold as each
Rubbermaid 1792372 Glutton 4-Stream Recycling Station
Genuine Rubbermaid®
Videos
Detail Product Breakdown
360° Video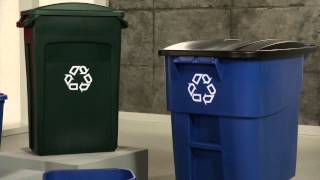 Rubbermaid Commercial Recycling Containers
Detalle del Producto en Español
Product Description
Rubbermaid Glutton Recycling Station
Fully-integrated station gives credibility to building recycling programs and drives recycling compliance. This Rubbermaid Glutton Recycling Station provides ease of sorting and containment for up to 4 separate material streams. Multiple restrictive-opening hole shapes and various color coded iconic and/or word labels provide flexibility, and help minimize contamination by giving visual cues for material identification. Hinged lid allows easy access during emptying. Rectangular-shaped receptacle has a 92 Gallon capacity and is made of easy-to-clean plastic. Unit comes complete with 2 Glutton Receptacles, 4 Slim Jim Receptacles, 1 hinged lid frame, 8 restrictive opening shapes (4 circles, 2 paper slots, 1 square, 1 triangle), and 1 label pack (symbol and word labels in English, French and Spanish). Dimensions: 53"W x 24" D x 35.5" H. Color: Blue.

Rubbermaid Commercial Products, Rubbermaid Glutton 4-Stream 92 Gallon Recycling Station, Blue, Sold as Each


CleanItSupply.com - the wholesale janitorial supply company buyers trust.
Warranty
Manufacturer's limited one-year warranty.
Product Specifications
Global Product Type: Waste Receptacles-Rectangle Recycling Station, Slot
Material(s): Plastic
Capacity (Volume): 92 gal
Color(s): Blue
Dimensions: 53"W x 24"D x 35.5"H
Opening Type: Restrictive (circle, slotted, square, triangle)
Lid Type: Hinged
Post-Consumer Recycled Content Percent: 30%
Package Includes: 2 Glutton receptacles, 4 Slim Jim receptacles, 1 lid frame, 8 restrictive opening shapes (4 circles, 2 paper slots, 1 square, 1 triangle), and label pack