Rubbermaid WaveBrake Dual Water 35 Qt. Bucket/Wringer Combo (RCP 7680 YEL)
zoom
Rubbermaid WaveBrake Dual-Water Mop Bucket/Wringer, Each
Discontinued or Out of Stock Product
It looks like the product you are looking for has either been discontinued or is temporarily out of stock.


You can click here to begin a new search from our home page, or call us 1-800-998-3295 and speak to a CleanItSupply.com customer service representative. We will do our very best to help you find what you need or recommend a similar replacement product.


Thank you for shopping CleanItSupply.com!



Videos
Detail Product Breakdown
360° Video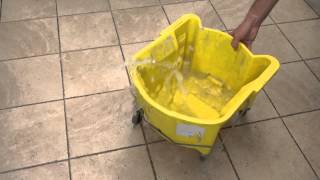 Rubbermaid Commercial Wave Break
Product Description
Rubbermaid WaveBrake Dual-Water Mop Bucket & Wringer
Promote a safer workplace. The patented, molded-in WaveBrake inhibits wave formation, which reduces splashing by 40%. Buckets stack, even with the wheels attached, for more efficient storage. Tested to exceed 50,000 cycles, the wringers are more than twice as durable. 30° handle bend is easier on the user's wrist and shoulder. Reduces cross-contamination with it's unique "bucket-in-bucket" design that separates clean and dirty water. This reduces cross-contamination potential and leaves a cleaner, less slippery floor. Sideward pressure wringer. Generating less than half the noise of a traditional mop bucket, the Quiet Caster Dolly allows you to work quietly in noise-sensitive environments, day or night. Bucket capacity: 35 qt. Wringer capacity: up to 32-oz. mops.

Rubbermaid Commercial WaveBrake Dual-Water Side 35 qt. Press Mop Wringer Bucket Combo, Yellow, Sold as Each

CleanItSupply.com - the wholesale janitorial supply company buyers trust.
Product Specifications
Global Product Type: Buckets/Wringers-Combo
Capacity Range (Volume): 35 qt
Depth: 22 2/5
Width: 16 1/2
Height: 38 3/5
Material(s): Plastic
Color(s): Yellow
Quantity: 1 each
Pre-Consumer Recycled Content Percent: 0%
Post-Consumer Recycled Content Percent: 0%
Total Recycled Content Percent: 0%