Rubbermaid Q810 Hygen Microfiber 18" Scrubber Mop Pad, 6 Pads (RCPQ810YEL)
zoom
Rubbermaid 18" Microfiber Scrubber Pad, Yellow, 6 Pads per Carton
Product SKU: RCPQ810YEL
Microfiber scrubber mop pad
Hygen microfiber pad with synthetic scrubber stripes
Easily removes stubborn spots and dried-on foods
Vertical Polyprolene stripes reach into tile grout lines
Durable through 500 washings and 200 with bleach
Finished edges retain mop shape over time
Fits Rubbermaid Q560 pad holder (sold separately)
Yellow microfiber pads
18" long pads
6 Pads per carton
Rubbermaid Q810 Scrubber Mop
Videos
Detail Product Breakdown
360° Video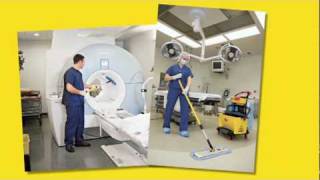 Rubbermaid HYGEN Microfiber System Advantage
Detalle del Producto en Español
Product Description
Rubbermaid Q810 Microfiber Scrubber Pads
These microfiber scrubber pads are designed for specialized floor cleaning and finish applications. Their vertical polypropylene scrubber stripes easily remove stubborn spots, dried-on foods and clean into tile grout lines. Heavy-duty, dense 3 - 5 micrometer quality fiber removes more dust, dirt and microbes than conventional cleaning products. The advanced hook-and-loop backing will hold-up under harsh laundering conditions and attaches pads more securely. Durable through 500 washings and 200 with bleach. Double finished edges will retain mop shape with use over time. Use with Rubbermaid Q560 Pad Holder Frame (sold separately). Yellow with blue stripes. 6 Pads per carton. 18" long.
Rubbermaid Commercial Products Hygen High-Performance Damp Mop 18" Microfiber Scrubber Pad, Yellow, 6 Pads per carton
Warranty
Manufacturer's limited lifetime warranty.
Product Specifications
Global Product Type: Mop Heads-Wet Pad
Head Type: Microfiber Scrubber Pad
Application: Floors
Mop Head Style: Microfiber Scrubber Pad
Mop Head Size: 20 x 5 1/2 x 1/2
Mop Head Color: Yellow
Mop Head Material: Microfiber
Washable: Yes
Pre-Consumer Recycled Content Percent: 0%
Post-Consumer Recycled Content Percent: 0%
Total Recycled Content Percent: 0%