Rubbermaid 748018 WaveBrake 26 Quart Side Press Combo, Yellow (RCP748018YW)
zoom
Rubbermaid Wavebrake 26-Quart Mopping Combo, Yellow, Each
Discontinued or Out of Stock Product
It looks like the product you are looking for has either been discontinued or is temporarily out of stock.


You can click here to begin a new search from our home page, or call us 1-800-998-3295 and speak to a CleanItSupply.com customer service representative. We will do our very best to help you find what you need or recommend a similar replacement product.


Thank you for shopping CleanItSupply.com!



Videos
Detail Product Breakdown
360° Video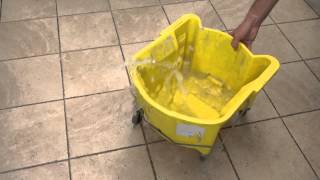 Rubbermaid Commercial Wave Break
Detalle del Producto en Español
Product Description
Rubbermaid 748018 Wavebrake 26-Quart Side Press Mop Bucket & Wringer Combo
Molded-in wave baffles reduce wave motion, resulting in 40% less splashing for safer, cleaner, more efficient mopping. Heavy-duty, ergonomic wringer designed to exceed 50,000 cycles. Mop handle secures during transport, preventing damage to walls. Nonmarking 3" casters. Constructed of tubular steel and structural web molded plastic. Full-size wringer accepts all mop sizes. Will NOT fit the Dirty Water Bucket accessory (9C74). 18% less effort to wring mop. Capacity Range (Volume): 26 qt; Depth: 18 5/8".

Rubbermaid Commercial Products WaveBrake 26 Quart Side Press Combo, Yellow, Sold as Each

CleanItSupply.com - the wholesale janitorial supply company buyers trust.
Warranty
Manufacturer's limited one-year warranty.
Product Specifications
Global Product Type: Buckets/Wringers-Combo
Capacity Range (Volume): 26 qt
Depth: 18 5/8
Width: 15 5/8
Height: 16 3/4
Material(s): Plastic
Color(s): Yellow
Wringer: Sideward Pressure
Quantity: 1 each
Pre-Consumer Recycled Content Percent: 0%
Post-Consumer Recycled Content Percent: 0%
Total Recycled Content Percent: 0%
Special Features: 26-Quart Bucket/Sideward Pressure Wringer