Rubbermaid 781888 Horizontal Baby Changing Station, Platinum (RCP781888)
zoom
Rubbermaid Commercial Baby Changing Station, Platinum, Each
Discontinued or Out of Stock Product
It looks like the product you are looking for has either been discontinued or is temporarily out of stock.


You can click here to begin a new search from our home page, or call us 1-800-998-3295 and speak to a CleanItSupply.com customer service representative. We will do our very best to help you find what you need or recommend a similar replacement product.


Thank you for shopping CleanItSupply.com!



Videos
Detail Product Breakdown
360° Video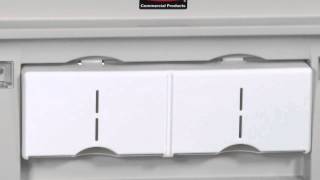 Rubbermaid Commercial Baby Changing
Detalle del Producto en Español
Product Description
Rubbermaid 781888 Changing Station
Features antimicrobial protection. Easy reach hooks for diaper bag storage. Built-in-shelf and liner storage. Pulls down from wall for use, closes to 33.5" x 21.5" x 4". Easy to clean with its smooth, crevice-free design. Ergonomic design provides convenient, one-handed opening. Size (W x L): 33 1/2" x 21 1/2"; Material(s): Plastic; Color(s): Platinum.

Rubbermaid Commercial Products Horizontal Baby Changing Station, Platinum, Sold as Each
Warranty
Manufacturer's limited one-year warranty.
Product Specifications
Global Product Type: Baby Changing Stations-Horizontal
Size (W x L): 33 1/2
Material(s): Plastic
Color(s): Platinum
Folded Depth: 4
Folded Height: 31
Compliance Standards: Meets all global safety standards; ADA; ASTM; EN; FDA
Pre-Consumer Recycled Content Percent: 0%
Post-Consumer Recycled Content Percent: 0%
Total Recycled Content Percent: 0%