Fantastik MAX Oven & Grill Cleaner, 32 oz, 8 Spray Bottles (SJN315227CT)
zoom
Fantastik MAX Oven & Grill Cleaner, 32 oz, 8 Spray Bottles per Carton
Product SKU: SJN315227CT
Developed for food service and commercial applications
Wide, foaming spray quickly saturates for efficient cleaning
A specialized formula powerful enough to penetrate through carbon deposits
Non-corrosive, safe on aluminum
Use for inside and outside of ovens, plus surrounding hard surfaces
Great for both conventional and self-cleaning ovens
32 oz Trigger spray bottle
8 Bottles per carton
Fantastik 315227 MAX Oven & Grill Cleaner
Videos
Detail Product Breakdown
360° Video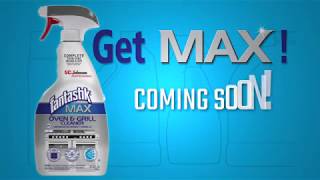 SC Johnson Fantastik Max
Product Description
Fantastik MAX Professional Oven and Grill Cleaner
Fantastik® MAX Oven and Grill Cleaner is formulated for food service and commercial applications, and great for use on both conventional and self-cleaning ovens. Wide foaming spray quickly saturates surfaces for efficient cleaning and is powerful enough to penetrate stubborn carbon deposits, yet non-corrosive and safe to use on aluminum. Fantastik cleaner removes carbon deposits, grease, oil, grime, baked on soils, fats, and food stains that dirty broilers, fryers, griddles, vent hoods, splash panels, grill tops and your surrounding kitchen surfaces. Get complete oven care in, out and around oven surfaces with this bulk oven cleaner for multiple applications around your kitchen! A highly effective product in all types of food service environments: fast casual, fast food and full service restaurants; as well as non-commercial/institutional locations such as businesses, educational facilities, lodging facilities and property management. Ideal for deep cleaning and/or touch up maintenance. NSF and Kosher Certified. Chemical Composition: Benzyl Alcohol; Diisopropanolamine; Ethyleneglycol Monohexylether; Sodium C14-17 Alkyl Sec Sulfonate. Capacity/Volume: 32 oz; Stock up today and save!

SC Johnson, SC Johnson Professional, Fantastik MAX Oven & Grill Cleaner, 32 oz Trigger Spray Bottle, 8 Bottles per Carton

CleanItSupply.com - The wholesale janitorial supply company buyers trust.
Product Specifications
Global Product Type: Cleaners & Detergents-Degreaser/Cleaner
Physical Form: Liquid, foaming
Applicable Material: Aluminum, chrome, ceramic, glass, porcelain, stainless steel
Packing Type: Spray bottle
Capacity (Volume): 32 oz
Scent: Pleasant
Compliance Standards: Kosher Certified; NSF A8 Certified
Total Recycled Content Percent: 0%
Precautionary Statements: Avoid contact with acrylic and cast iron surfaces.
Package Quantity: 8 Bottles