Rubbermaid 2643-73 Brute 44 Gallon Recycling Container, Blue (RCP 2643-73 BLU)
zoom
44-Gallon Brute Round Recycling Container, Blue, Each
Discontinued or Out of Stock Product
It looks like the product you are looking for has either been discontinued or is temporarily out of stock.


You can click here to begin a new search from our home page, or call us 1-800-998-3295 and speak to a CleanItSupply.com customer service representative. We will do our very best to help you find what you need or recommend a similar replacement product.


Thank you for shopping CleanItSupply.com!



Videos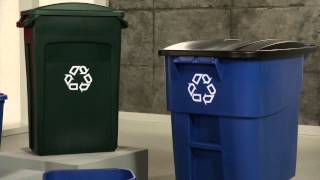 Rubbermaid Commercial Recycling Containers
Product Description
44 Gallon Brute Recycling Container
Durable, strong, and comprised of recycled plastic exceeding EPA comprehensive guidelines, this Rubbermaid Brute 44 Gallon Recycling Container is perfect for the home, office, facility, restaurant, or business. Known for its easy-to-maneuver handling, this Brute can also can serve as a central collection container. Clearly marked with the international sign for recycling, this large container is the ideal addition to any eco-friendly residential, commercial, or industrial environment. Dimensions: 24" in diameter, 31-1/2"H, 44 gallon capacity.

Rubbermaid 44-Gallon Brute Round Recycling Container, Blue, Each

CleanItSupply.com - the wholesale janitorial supply company buyers trust.
Product Specifications
Global Product Type: Waste Receptacles-Round, Open Top
Waste Receptacle Type: Round, Open Top
Material(s): Plastic
Application: General Waste
Capacity (Volume): 44 gal
Color(s): Blue
Shape: Round
Diameter: 24
Height: 31 1/2
Opening Type: Open Top
Handle: Side
Pre-Consumer Recycled Content Percent: 0%
Post-Consumer Recycled Content Percent: 25%