Libman Freedom Spray Mop 10" Microfiber Pad Refill, 12 Pads (LIB-04001)
Libman Freedom Spray Mop Microfiber Pad Refill, 12 Pads per Case
Product SKU: LIB-04001
Spray mop refills
3 Green scratch-free deep-cleaning strips
Pull tab for easy removal
Machine wash up to 50 times
Refill for Freedom Mop LIB-04000 (sold separately)
5" x 10" Microfiber pads
12 Pads per case
Libman 4001 Microfiber Pad Refills
Videos
Mop Refill Line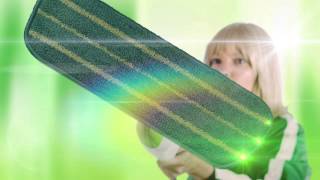 Libman Freedom Spray Mop
The Libman Story - Family Made in America
Product Description
Libman Microfiber Mop Pad Refills
Premium 10" x 5" microfiber cleaning pad refills for the LIB-04000 Freedom Spray Mop. These pads are enhanced with three scratch-free cleaning strips for extra scrubbing power. The pad can be removed and machine washed up to 50 times before it needs to be replaced. Includes 12 microfiber pads per case.
Lead Time:
2-3 Business Days
.
Libman Commercial Freedom Spray Mop Pad Refill, 10" x 5" Microfiber Pads, 12 Pad Refills per Case
Warranty
Manufacturers limited one-year warranty.