Libman 4002 Freedom Spray Mop, Green, 4 Complete Mops (LIBMAN 4002)
Libman Freedom Complete Spray Mop, 4 Mops per Case
Product SKU: LIBMAN 4002
Libman Freedom Spray Mop
Premium microfiber pad features 3 scratch-free, deep cleaning strips
15" x 5" Pad
Comfort fit trigger allows user to easily control the amount of fluid
Machine washable pad up to 50 times
Ergonomic middle grip allows for downward pressure for effective scrubbing
Removable 18 oz. fluid reservoir
Powerful pre-compression sprayer delivers cleaning solution to the floor
Total mop length of 49"
Mop head angled to reach tough corners
Total mop length of 49"
Removable and refillable fluid reservoir can be filled with any solution
Mop head swivels 360 degrees
Excellent for quick cleaning on all hard surfaces
Mop head swivels 360 degrees
Removes over 99% of bacteria with just water
This item does not qualify for free shipping.
Videos
Detail Product Breakdown
360° Video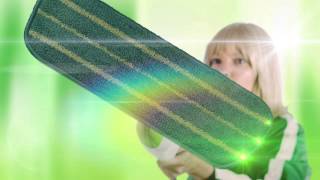 Libman Freedom Spray Mop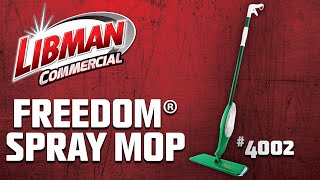 Libman 4002 Freedom Spray Mop Product Spotlight
Product Description
Libman 4002 Freedom Spray Mops
Libman's Freedom Spray Mop that allows the "Freedom" to use any cleaner and to use reusable microfiber heads rather than disposable pads. The mop is more environmentally-friendly than many others on the market. Coming in at 15" wide, these reliable mops feature a 15" x 5" premium, machine washable microfiber pad with 3 green scratch-free, deep cleaning strips. Delivered in cases of 4 mops per case, these quality mops are great for both commercial and residential environments.
Lead Time:
2-3 Business Days
Libman Commercial Freedom Spray Mop, 15" Wide Mop Head, 4 Complete Spray Mops per Case
Warranty
Manufacturers limited one-year warranty.