Bissell Commercial 38" Battery Powered Triple Brush Push Sweeper, Orange and Black (BIS-BG697)
zoom
$2,398.80 /Each
$1,617.20 /Each
(Save 33%)
---
$1,552.51 /Each
(Save 35%)
Battery Powered Triple Brush Push Sweeper, Each
Videos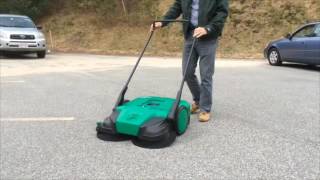 Bissell Commercial Push Power Sweeper
Product Description
38 Inch Push Power Sweeper with 13.2 Gallon Debris Tank
The Bissell Commercial Mastersweep 697 with Electric Drive is equipped with electric motors running on storage cell and manual operations to drive the brushes. As a result, the 697 takes less effort and guarantees exceptional performance even in hard to get places where the machine cannot go forward. The integrated battery, when fully charged, gives you 90 minutes of operation time, enough to clean up to 44,000 square feet per hour. Encapsulating brush drive prevents coiling of straw and strings. Two front brushes rotate in opposite directions and pick up the larger debris and the brush roller on the bottom picks up the fine particles and then all debris is deposited into the large, easy to empty 13.2 gallon container. Orange and black. Each.

Bissell Commercial 38 Inch Mastersweep 697 Push Power Sweeper, 13.2 Gallon Debris Container, Each

CleanItSupply.com - The wholesale janitorial supply company buyers trust.