Bissell Commercial 31" Battery Powered Triple Brush System Sweeper, PPS40B, Orange and Black (BG677)
zoom
Deluxe Triple Brush Push Power Outdoor Sweeper, Each
Videos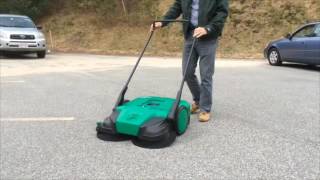 Bissell Commercial Push Power Sweeper
Product Description
31" Battery Powered Sweeper with 13.2 Gallon Debris Container
The two front brushes rotate in opposite directions grabbing the debris directly in front of the sweeper while the brush roller on the bottom picks up all the fine particles, all the debris is then deposited into the large easy to empty 13.2 gallon container. First, the two circular brooms pick up larger and heavier objects and deposits them into the waste container while a second set of brushes picks up smaller debris, finer dirt and dust particles. Encapsulated drive mechanisms resist debris intertwine such as straw, twine, stems, rope, etc. Rubber scrapers are also added for broom tightness, reducing dust return. 2 year overall manufacturer's warranty, 4 year warranty on brushes. Height adjustment capability, battery powered, light weight and easy to store. Orange and black. Includes one sweeper.

Bissell Commercial 31" Triple Brush Push Battery Powered Sweeper, 13.2 Gallon Debris Container, Each

CleanItSupply.com - The wholesale janitorial supply company buyers trust.